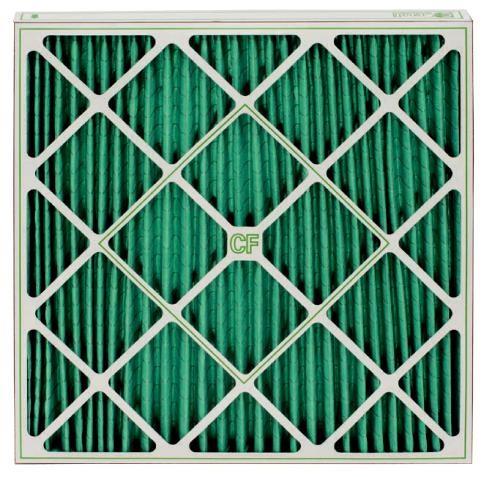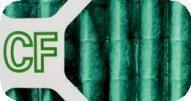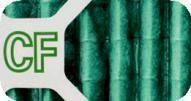 Specification:

Type: High performance disposable pleated panel filter
Media: Mixture of cotton and synthetic fiber
Frame: Rigid water resistant cardboard
Recommended final pressure drop: 250Pa 
Temperature: 100ºC maximum in continuous service
Application: As a pre filter in air-condition system
Advantages 
15 pleats/feet,50% filter efficienry higher than normal product
Mixture of cotton and synthetic fiber, ensure the stability of efficiency and dust holding capacity
Rigid Water resistant cardboard frame, which is from USA with high quality level
Fiber containing flame resistant component
Fully supported media bonded onto a wire support grid, get high mechanical strength
Unique tapered radial Pleat design, get the low pressure drop
Thickness Vs Efficiency vs pressure drop1.Odd sizes available
Thickness

Pressure drop(pa)@2.5m/s

Inches
(mm)
G3
G4
1
22
80
90
2
45
70
80
4
95
60
70
Dimensions vs Air flow
Dimensions(W*H)
Air flow(m3/h)
Inches
(mm)
@2.5m/s
24*24
592*592
3400
24*12
592*287
1700
24*20
592*490
2800
20*20
490*490
2300
how to choose the heap filter?
2.Pressure drop
3.Frame: GZ galvanized steel,aluminum abs plastic
4.Filter efficiency
5.Width
6.Height
7.Frame thickness
8.Up side:gasket or not?
9.Sealing ring or not?
10.Down side:gasket or not?
11.Sealing ring or not?
Engaged in creating a clean and fresh environment for people, Sffiltech is specialized in pleated pre-filter with paper frame. As one of the best manufacturers and suppliers, we can assure you the best quality and stable performance of our custom products. Please rest assured to buy.