LPSL filter cartridges are specially designed for sterilizing filtration of plasma fractionation. They are featuring extremely low extractables with no more than 10mg/10", longer service life with 40 cycles of SIP. These filters can powerfully ensure final product quality.
Features and Benefits
Double layer hydrophilic PES Membrane 

Low protein binding

Extensive drug compatibility for critical applications 

Extremely low extractables
Quality
Cartridges produced in a controlled environment

Manufactured according to ISO9001 certified Quality Management System
Specification
LPSL Low Extractable and Longer Service Life Filter Cartridge for Plasma Fractionation
Materials of Construction

Membrane

Double  Layer Hydrophilic PES

Support

PP

Core, Cage   and Drainage

PP

End   Caps

PP  (222/226 with encapsulated stainless   steel reinforcing ring)

O-rings/Gasket

Silicone/EPDM/Viton

Sealing  technology

Thermal Bonding, No Adhesives

Dimensions

Diameter

Φ70

Length

5 inch, 10 inch, 20 inch, 30 inch

Filtration  Area, ft2

≥ 4.9   per 10-inch cartridge

Pore Size, μm

0.45+0.22

Maximum Differential Pressure

Forward: 4.2 bar @ 23 ℃; 1.5     bar @ 85 ℃

Integrity Test at 23 ℃

Water   bubble point

≥ 3500   mbar (50 psig)

Diffusive   flow

≤   30ml/min/10"@2.8bar

Bacterial Retention

Passed  the bacterial  challenge testing using Brevundimonas diminuta (ATCC19146) at a minimum   challenge concentration of 1 x 107 CFU/cm2.

Extractables, per 10-inch cartridge

≤ 10  mg after 24-h soak in   water

Effluent Particle Level

Meets  the requirements  of Chinese Pharmacopoeia 2010, Volume Ⅱ, appendix Ⅸ C.

Non-Fiber Releasing

Meets   the criteria for  a "non-fiber releasing" filter as defined in 21 CFR   210.3 (b) (6).

Toxicity

Component   materials   meet GB/T 14233.2<2005>of Chinese National Standard   for Safety Tests.

TOC

< 500 ppb after a water flush of 60 liters per 10-inch cartridge

Multiple Sterilization Cycles

40 steam-in-place sterilization or autoclave cycles of 30 min at 123℃

Oxidizable Substances

Meets the criteria of Chinese Pharmacopoeia 2010, volume Ⅱ for purified water.

Bacterial Endotoxins

<0.25 EU/ml as determined by the LAL test
Ordering Information
LPSL Low Extractable and Longer Service Life Filter Cartridge for Plasma Fractionation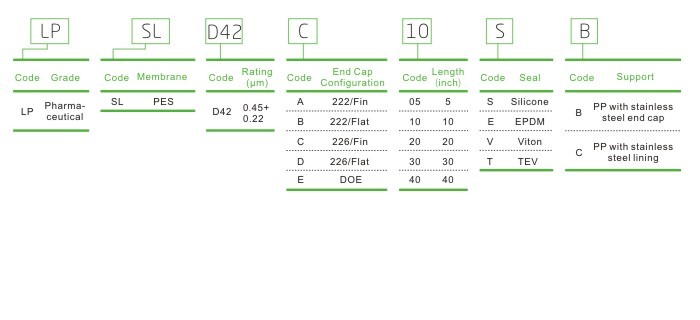 Application:
Plasma Fractionation
Sterile Injection Powder
Vaccines
Sterile Injection Powder
Small & Large Volume Parenterals
Plasma Fractionation
Ophthalmic Solutions
Facilities Water
Cell Culture Media Preparation
Active Pharmaceutical Ingredients
Beer Filtration
Wine Filtration
Bottled Water Filtration
Soft Drink Filtration
Dairy Filtration
High Fructose Syrup Filtration
Semicon Filtration
Ultrapure/DI Water Filtration
Photoresist Filtration
Display Filtration
CMP Slurry Filtration
Inkjet Inks Filtration
Water Filtration
Chemicals Filtration
Engaged in creating a clean and fresh environment for people, Sffiltech is specialized in membrane pes filter cartridges. As one of the best manufacturers and suppliers, we can assure you the best quality and stable performance of our custom products. Please rest assured to buy.